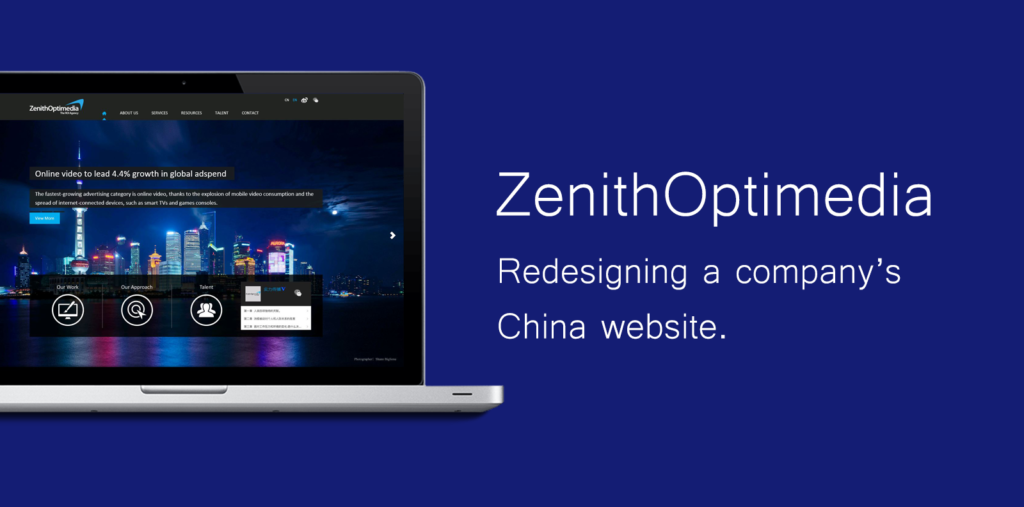 Overview
ZenithOptimedia needed a website redesign for its China website. Working closely with their team in Shanghai our project was completed on time and under budget.

Role 
Project manager / UX Lead

Background
I led the project development and UX strategy as the project manager and sole point of contact with the client. Below as some project highlights:

Managed the project 100% remotely. Dealing with clients in Shanghai and a remote team of developers in India to deliver results on time and to correct specifications.
Designed functionality around the client's requirement while ensuring usability and simplicity so that the client could manage the site easily themselves after hand over
Effectively managed budget to ensure our profit margins were not eroded.
Defining the scope of the project
Working closely with the client, I conducted stakeholder interviews and focus groups and from this built out a value proposition, status table and timeline.

Designs / Working with Developers
Starting with the ideas and goals that the client wanted to achieve, I developed a product strategy and roadmap in order to clearly communicate with the developers what we were aiming for.

Based on the initial wireframes, I worked with a team of four remote developers, working through each section of the site and testing the functionality with users (agency staff members) to ensure the stakeholders' vision matched the user understanding and usability of the project.

Results
A fully functional site, with WeChat integration, that the client could easily manage and maintain themselves. The project was completed on time and under budget.